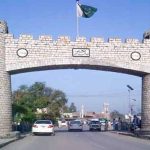 ISLAMABAD: The Election Commission of Pakistan (ECP) will appoint the caretaker chief minister of Punjab tomorrow as the government and opposition have failed to agree on consensus interim chief minister.
The Chief Election Commissioner (CEC) Sikander Sultan Raja has summoned a meeting, which will discuss the four names recommended by the Punjab chief minister and opposition leader.
On Thursday, the parliamentary committee had failed to reach consensus on appointment of caretaker Chief Minister of Punjab.
Talking to media after a meeting of the parliamentary committee, the former provincial ministers Raja Basharat and Mian Aslam Iqbal said that the the opposition didn't has rejected all the names suggested by the government, adding that the opposition members were insisting on the PML-N's two names. They said that the government and opposition would send their names to the Election Commission of Pakistan, which will decide the name for caretaker chief minister.
They added that the PTI would move the court if any controversial person was appointed as the caretaker chief minister. They suggested that Ahmed Nawaz Sukhera was the most suitable person as he has worked in the tenure of both PML-N and PTI.
The PML-N leader Malik Muhammad Khan said that the opposition's suggested names are not eligible for the caretaker chief minister, therefore the caretaker chief minister should be chosen from the names proposed by the opposition.
He regretted the matter could not be settled politically and now the ECP would take decision. He said was not in favour of taking political matters to court. He termed Mohsin Naqvi as a competent and credible person for the caretaker chief minister.
Meanwhile, sources said that the Election Commission has decided that RTS system would not be used in elections for Punjab  and Khyber Pakhtunkhwa assemblies.