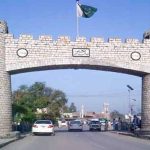 ISLAMABAD: Election Commission of Pakistan (ECP) will use 100 Electronic Voting Machines (EVMs) in upcoming NA-4 Peshawar by-election on trial basis, being held on October 26.
According to an official of ECP, these machines will be placed in 100 polling booths of 35 polling stations with having 47,255 total voters.
He said that services of 100 operators will be hired to assist the voters. He added the processing time of casting one vote through these machines will take 20 seconds.
He said that this new technology is being introduced in bye-election to examine the performance and functioning of the machines besides voters' problems in using this technology.
He said that there will be no effect on the result of bye-election with use of these machines as this is just a pilot project.
He said that the commission will compile its report after use of these machines in Peshawar bye-election and submit it with the parliament.
He said that under article-103 of new election act 2017, EVM machines will be used as pilot project.
He added there will be no linkage of these machines with the internet during election process.
He said that each machine has three components included main unit, voting pad and ballot box. He added the experts will examine the existence of any technical error if creates during voting process besides other aspects like function of voting pad, battery timing etc.
He said that the existing laws only allow using old vote casting system and it allows use of new technology only on trial basis. He added if the parliament considers this new technology as appropriate, than it may amend the concerned laws.