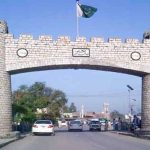 ISLAMABAD: Educational institutions across the country have been closed today (Friday) as religious parties continue to protest and block roads for a third day, amid efforts by the government to defuse the situation.
Private and public educational institutions are closed across Khyber Pakhtunkhwa, Punjab, Balochistan and Sindh's Karachi.
Roads in major cities across the country have been blocked and mobile phone services have been suspended in Islamabad, Rawalpindi, Lahore and Gujranwala.
All schools and colleges in Peshawar have been closed today, however, universities are open.
KP Adviser Education Ziaullah Bangash said that all government schools will remain open today and studies will resume. However, two associations on private schools had announced that private schools will remain closed today.
According to Women University Swabi's administration, the educational institution will remain closed today. The Swat University administration said that the papers scheduled for tomorrow have been postponed and a new date will be announced soon.
University of Swabi has notified that the university will remain closed today.
All universities, colleges and schools across Punjab are closed today.
Punjab government's Higher Education Department in a notification said that all public and privately managed universities and colleges in Punjab will remain closed today. All private schools in Southern Punjab are also closed.
The supplementary exams under Punjab Secondary Education Board for Intermediate scheduled November 2 and 3 have been postponed as well, a Punjab government spokesman said and added that new dates will be announced later.
However, University of Health Sciences, Lahore, is open today.
Quaid-e-Azam University, Islamabad is also closed today while academic activities at International Islamic University have also been suspended.
The Federal Urdu University of Arts, Sciences and Technology has also cancelled all examinations scheduled for Friday, the controller examinations said in a statement. All exams will be held on Saturday as per the schedule, the controller examinations added.
On Thursday, Sindh Minister for Education Sardar Shah said that institutions across the province will remain open as per schedule except for in Karachi.
Private schools in Karachi have been closed today following an announcement by the All Sindh Private Schools Association.
Meanwhile, Karachi's Iqra University is open although exams scheduled for today have been postponed.
An IBA spokesman said a ceremony for job portal has been postponed while an NED University registrar said Masters and PHD examinations have also been postponed.
All private and public schools and colleges across Balochistan are closed today.
However, Secondary Education Board Controller Abdullah Shah Gharshain had announced on Thursday that FA and FSc exams will take place as per schedule.