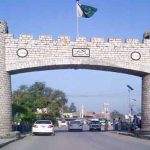 KURRAM AGENCY: The Khyber Pakhtunkhwa Governor Iqbal Zafar Jhagra has said return of Temporarily Displaced Persons (TDPs) of FATA is in the final stages and effective measures have been taken to ensure their dignified rehabilitation.
Addressing a tribal jirga during his visit to Kurram Agency on Monday, he said restoration of educational and health facilities in the tribal areas is also top priority of the government.
The Governor said more than 1690 million rupees have been earmarked for development in Kurram Agency during the current financial year.
On this occasion, Iqbal Zafar Jhagra inaugurated a newly constructed developed hydel power project which beside generating 150 KV electricity will also irrigate vast cultivable area in the agency.
He also inaugurated Governor's Model schools at Parachinar and Sadda which have been completed at a cost of 170 million rupees.