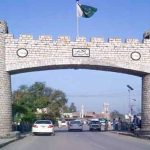 KARACHI: Muttahida Qaumi Movement-Pakistan (MQM) leader Dr Farooq Sattar on Saturday has said that his party workers were being arrested and a climate of fear had been produced among party stalwarts.
Talking to media in Karachi on Saturday, he termed the arrests a matter of concern for the party and asked as to why it was happening.
Reiterating his complain regarding census, he alleged that the population of Karachi was counted less than its half.
He said that efforts were being put in to bar voters of Karachi from casting vote.
While commenting on the sentences handed down to Nawaz Sharif, Maryam Nawaz and Capt (retd) Mohammad Safdar, Sattar said that whatever happened was the result of Pakistan Muslim League-Nawaz's (PML-N) shortcomings.
He also advised Nawaz Sharif to return to Pakistan adding, "Being in politics does not mean that you will not be caught".
The MQM-P leader maintained that Pakistan People's Party and PMLN did nothing regarding the law of National Accountability Bureau (NAB).