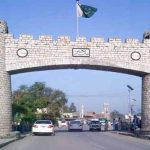 PESHAWAR: Khyber Pakhtunkhwa Minister for Information Shaukat Yousafzai says efforts are underway to recover all the occupied state land from the people.
Briefing newsmen in Peshawar on Tuesday, he said three thousand and three hundred kanals land has been recovered in Mardan alone.
Notices are being issued to the concerned people to vacate state land.
Shaukat Yousafzai said a welfare package has been announced for treatment of poor people who are suffering from six fatal diseases.
He said five schools are being opened in Peshawar for Sikh community.