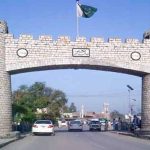 RAWALPINDI: As the confessional video of key terrorist of Tehreek-e-Taliban Pakistan (TTP) Ehsanullah Ehsan, the former spokesperson of TTP and a Jamaat-ul-Ahrar leader, came into media limelight, the Inter-Services Public Relations (ISPR) through its twitter account has said on Wednesday that the confessional video has exposed the hostile foreign agenda and their designs to destabilize the country.
Calling the youth as national strength, the army's media wing said that youth would never fall prey to their anti-state designs and propaganda.
It should be recalled here that Director General ISPR Major General Asif Ghafoor on April 17 in a press conference had said that Ehsanullah Ehsan surrendered to the security forces.
"I am Liaquat Ali alias Ehsanullah Ehsan and I hail from Mohmand Agency. I joined TTP when I was a college student. I remained associated with two militant organizations first with TTP as Spokesperson TTP Mohmand Agency and then the Central Spokesperson of the organization besides rendering the same services for Jamaat-ul-Ahrar", he said.
Lamenting on his connections with the proscribed organisation, the former said that: "During nine years of my association with the Taliban, I saw TTP misleading people especially youth in the name of Islam."
He concluded his confession with a message for youth in which he said: "Don't fall into propaganda of these elements, they are playing at the hands of the enemy." These were the reason that I voluntarily decided to surrender to the Pakistan Army.