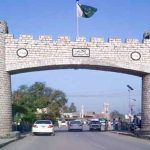 ISLAMABAD: Eid Milad-un-Nabi (PBUH) was celebrated across the country on 12th Rabi ul Awal (Monday) with religious fervour and enthusiasm.
Mahafil-e-Milad and ceremonies were organized by religious, social and academic organizations and processions were taken out in cities, towns and villages.
Besides other cities, in Islamabad, Karachi, Lahore, Peshawar and Quetta, traditional Mahafil-e-Milad ceremonies were held and processions were taken out to celebrate the birth anniversary of Prophet Muhammad (PBUH).
The day dawned with special prayers for the unity of Muslim Ummah and progress and prosperity of the country.
Like previous years, houses, shops, private and government buildings, mosques, shrines and places of worship were illuminated and decorated with flags and buntings on this auspicious occasion.
Medical camps were set up to facilitate the participants of the processions. Rescue 1122 Emergency Service, Bomb Disposal Squad, Fire Brigade, Civil Defence and police personnel remained alert to deal with any untoward incident.
Thousands of police personnel were deployed to provide security at Mosques and around processions.
Special dishes were prepared at homes and people distributed food among their neighbours, relatives and needy people.
Children also came out in large numbers to join their elders to celebrate the day.
Religious scholars made speeches to highlight different aspects of the life of Prophet Muhammad (PBUH).
In Karachi, the main procession of the 12th Rabi-ul-Awal was taken out from Memon Masjid and culminated at Nishter Park. In Hyderabad, various Milad-un-Nabi processions were taken out by religious and social welfare organizations from main city, Latifabad, Qasimabad and Hyderabad rural talukas.
People of Hazara division also celebrated the sacred day with great enthusiasm in all six districts.
Markets and buildings of Abbottabad, Haripur, Mansehra and Havelian city and even the small towns were decorated with lights, flags and banners to observe the birthday of Holy Prophet (PBUH).
Participants of the milad processions pinned badges on their chests and decorated their bicycles, motorcycles and cars with green flags as a show of love and reverence for Prophet Muhammad (PBUH).
In Multan, Eid Milad-un-Nabi (PBUH) was observed with traditional religious zeal and fervour.
The main procession organised by Jamaat Ahl-e-Sunnat Wal Jamat started from Ghanta Ghar Chowk in which a large number of people participated. The rally passed through Pakistan Gate, Haram Gate, Mumtazabad and ended at Ghanta Ghar.
The day was also celebrated in Gilgit-Baltistan and Seerat conferences were organized at district level, where religious scholars and intellectuals shed light on Prophet Muhammad (PBUH)'s life, sayings and teachings.
Naat (poetry written in praise of the Prophet) and Quran recitation competitions were also held. Later prizes were distributed among persons who performed outstandingly.
In Mirpur, Eid Milad-un-Nabi was also celebrated and Eid Milad un Nabi (SAW) processions and rallies were taken out from various parts of the city and district.