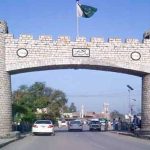 ISLAMABAD: Eid Milad-un-Nabi (PBUH) will be celebrated across Pakistan on Thursday with religious fervour and spirit, as faithful illuminated houses and mosques on eve of the sacred day.
Processions will be the major event of the day and taken out in all the cities and towns throughout the country.
Mosques, public and private buildings and routes of Milad processions have been decorated profusely.
Authorities have made tight security arrangements to avoid any untoward incident on the occasion besides making other necessary arrangements to facilitate the faithful.
The sacred day will dawn with special prayers at Fajr, in the mosques throughout the country for upholding and flourishing of Islam and the Islamic teachings, unity, solidarity, progress and welfare of the Muslim ummah, security and stability of Pakistan.
Ceremonies will continue from dawn to dusk to celebrate the day with fullest religious devotion and respect in all small and major towns across where religious scholars will pay glorious tributes to the Prophet Muhammad (Peace Be Upon Him).
Police, Rangers and other law-enforcing agencies have chalked out their security plan for processions and religious gatherings of Eid Milad.