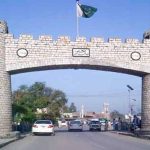 ISLAMABAD: Eid-ul-Fitr is likely to be celebrated on June 5 (Wednesday) in Pakistan according to International Astronomical Centre's (IAC).
IAC predicted the Eid for most of the Muslim countries.
"The sighting of the crescent would be impossible from all the continents on June 3 (Monday) because the moon on that day sets before sunset and/or the topocentric conjunction occurs after the sunset", Khaleej Times reported while quoting the IAC official website.
As per IAC reported, only telescope can be used to sight the moon on June 3 in few western parts of the United States of America (USA).
It is expected to sight the moon on June 4 in most part of the Arab nations, Asia, Africa and Australia.
IAC informed that it is impossible to see the crescent from the areas located under the red colour. The crescent is expected to be seen by optical aid only from the areas located under blue and magenta colour.
Countries that started Ramazan May 6 are supposed to complete 30 days of fasting by June 4, the IAC stated.
Regarding countries that started Ramazan May 7 – including Pakistan, Bangladesh, India, Brunei, Iran, Oman, and Morocco – will complete 29 days of fasting.
They will be able to spot the crescent on June 4, making June 5 (Wednesday) the first day of Eid-ul-Fitr, according to the IAC.