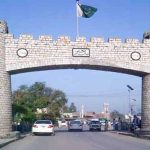 LAHORE: At least eight people were killed and nineteen others injured after a mini truck overturned near Lahore's Sundar Adda on Wednesday.
The injured and dead bodies were shifted to Wand hospital.
The truck, which was carrying milk in steep pots, overturned because of speeding, according to DSP Aijaz Malik. The truck was also carrying 30 passengers from Bambah village.
The police have removed the truck from the road and it has been cleared for traffic.
On October 6, six passengers were injured when a bus overturned near Abdullah College in Karachi's North Nazimabad. The accident was caused by speeding. The bus was full, with passengers on the roof as well.