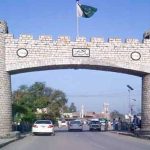 BUNER: At least eight laborers were killed and six others sustained critical injuries due to land sliding caused by an explosion inside a marble mine in Buner here on Saturday.
According to details, the land sliding incident took place in Chalicar marble mine situated in Bampokha area of district Buner.
DPO Khalid Sohail confirmed the incident and said that rescue operation is underway to retrieve the laborers trapped under the debris. He said that eight dead bodies and six injured were retrieved whereas rescue operation is underway as it is feared that two to three people are still trapped under the debris. He said that five dead bodies and injured have been shifted to district headquarters hospital Dagar.
Hospital sources said that three of the injured were referred to the hospital in Peshawar in critical condition.
Meanwhile, earthquake measuring 4.7 magnitude on the rector scale shook the Swat valley and its adjoining areas, however, no loss of life was reported.
According to details, people came out from their homes in fear and started reciting Kalima Tayyaba.
As per the Pakistan earthquake centre, the tremor was of 4.7 magnitudes with the Pak-Afgan-Tajikistan border areas as a center and its depth was 10 km.