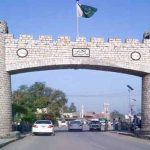 ISLAMABAD: Eight police officers were killed in two separate attacks in Afghanistan on Thursday, officials said.
Officials blame the Taliban for the attacks after an Eid ceasefire between the Afghan government and militants expired, but there has been no claim of responsibility for either attack.
Arif Noori, a spokesman for the governor of the southern Ghazni province, said six policemen were killed and four were wounded in an attack on security posts early on Thursday. He said at least seven insurgents were killed in an hours-long gun battle.
In the northern Baghlan province, police spokesperson Zabiullah Shuja alleged that that the Taliban had killed two police and wounded another three.
The Taliban have seized several districts across the country in recent years, and carry out near-daily attacks, mainly targeting security forces.