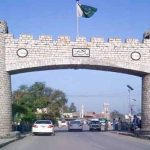 PESHAWAR: Chairman Qaumi Watan Party Aftab Ahmad Khan Sherpao has termed the Election 2018 a fate changer for the people of Khyber Pakthtunkhwa, adding that after the merger process it is good opportunity for Pakhtums to choose leadership for themselves.
He said this while addressing a public meeting in Kalabut distract Swabi. He said that it is high time for Pakhtun nation to choose wise leadership so as to change their fate.
He clarified that pakhtuns nation will no longer subdue itself to the exploitation by any force. He said that Pakhtun nation had given numerous sacrifices.
Aftab Khan also emphasized on the importance of upgrading the transmission lines in KP in order to provide a friendly investment climate. He criticized the delay in provision of net hydel profits and stated that such delays hamper the developmental schemes in the province.
He criticized the PTI leadership for its lack of vision and false claims saying that it was the great insult of the vote of the people from whom they get vote on the name of fake change. He said that claims of building 1,000 schools and 300 small power houses is more than rubbing salt on the wound of Pakhtuns who vote them but in previous five years term PTI government left the province in total wreck.
Aftab Sherpao expressed his firm conviction that Qaumi Watan Party will fight for the rights of Pakhtuns and will raise voice against exploitation of the people of his province on every platform. Qaumi Watan Party will emerge as the only representative of Pakhtuns in the general elections of 2018, he said.