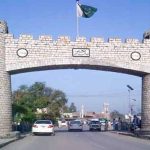 The Elections Commission of Pakistan (ECP) on Thursday reserved the verdict in the controversial by-elections held in NA-75 (Sialkot-IV). The decision wheatear to hold re-elections or announcing the results of the constituency would be delivered at 3pm today. The February 19 by-elections in the constituency were marred by incidents of rigging and clashes between the voters and supporters of rival parties — PTI and the PML-N. The violence rose to an extent that it claimed the lives of two persons, besides injuring several others.
PML-N candidate Nausheen Iftikhar had filed an application in view of the delay in the announcement of results by 23 polling stations and requested the ECP not to include the results of these polling stations in the final results.
Today's hearing was presided over by Chief Election Commission Sikandar Sultan Raja who was heading a three-member ECP committee.