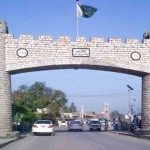 MALAKAND: The Khyber Pakhtunkhwa Election Commission has taken notice of an agreement baring women from casting votes in Malakand Division.
According to details, the Commission has written to all the returning officers of Malakand Division to prevent such agreements.
The Commission has said it received a letter from a female social activist named Tahira Abdullah saying, "It has been decided to bar women from casting votes in Swat, Lower Dir, Upper Dir, Shangla, Buner, Chitral, Malakand and Bajaur districts".
Tahira Abdullah further said that local elders and political leaders of these districts have signed an agreement in this connection.
The Commission has asked in its letter to returning officers to ensure women's participation in general elections.