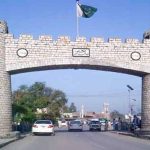 ISLAMABAD: An election tribunal on Wednesday rejected nomination papers of Paksitan Tehreek-e-Insaf leader Fawad Chaudhry from NA-67 Jhelum.
The application against the PTI leader was filed by Justice and Democratic Party candidate Fakhar Abbasi Kazmi who said Fawad Chauhdyr has failed to pay agricultural tax.
In another objection, the applicant cited a discrepancy in the identity card of Fawad Hussain Chaudhry whose name, he said, was written as Fawad Ahmed.
Accepting the arguments, the tribunal rejected the nomination papers of PTI leader.
Responding to the judgment of the tribunal, Fawad Chaudhry released a video in which he said he would file an appeal against the decision as land less than 12 acres is exempted from agricultural tax.
He also announced to approach Supreme Judicial Council and the Pakistan Bar Council against the judge who gave the verdict.
The outspoken PTI leader also raised questions about the appointment of the judge.
He expressed the the hope that the decision aganst him would be reversed within a couple of days, asking his supporters to continue the election campaign in the constituency.