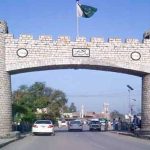 RAWALPINDI: An appellate election tribunal dismissed on Wednesday former prime minister Shahid Khaqan Abbasi's nomination papers submitted for NA-57, Murree.
The tribunal had on Monday reserved its verdict on an appeal against the acceptance of Abbasi's nomination papers by the returning officer (RO) and announced it today.
Announcing the decision today, the tribunal head, Lahore High Court Justice Abdul Rehman Lodhi, accepted all the objections of the petitioner.
Petitioner Masood Ahmed Abbas had challenged Abbasi's candidature, accusing him of extorting money from the national exchequer. The petitioner had alleged that the candidate, during his tenure as the prime minister, had obtained Rs1 billion from the national kitty and given the amount to his son to perform Umrah.
Moreover, Abbas had stated that the former premier had supported a controversial interview that Nawaz Sharif had given, accusing him of purposefully damaging national security.
Among other accusations, the petitioner had alleged that Abbasi did not provide correct details of his assets. He further said that the former prime minister had not given any statement in support of Aafia Siddiqui — a Pakistani scientist imprisoned in the US on terrorism charges.
Abbasi's lawyer informed the tribunal that his client had declared all of his assets in the documents submitted to the Election Commission of Pakistan. "Declared assets in both of my client's nomination papers are the same," he said, adding that Abbasi had listed his shares in an airline in both documents.
The appellate tribunal had earlier also suspended the returning officer for not correctly vetting Abbasi's nomination papers.
The election tribunals have until today to decide on the appeals after which the revised list of the candidates will be shared on June 28.
The last date for withdrawal of candidature will be June 29 whereas the date for allocation of electoral symbols and publication of the final list of contesting candidates will be June 30.
Polling for general election 2018 will be held on July 25.