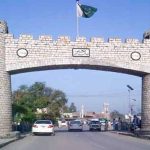 ISLAMABAD: The Senate Elections for 52 seats of the upper hous of the parliament will be held on Saturday.
According to Election Commission of Pakistan one hundred and thirty five candidates will contest for fifty-two Senate seats.
Twelve Senators each from Punjab and Sindh, 11 members each from Khyber Pakhtunkhwa and Balochistan, four lawmakers from FATA, and two members from the federal capital will be elected.
Polling process will be started from 0900 and continued till 0400 in the afternoon.
The Election Commission of Pakistan, in a review meeting, has taken several decisions to ensure vote privacy during the elections.
The Commission decided that returning officers will ensure that no voter exposes his vote's privacy and neither be allowed to take issued ballot paper outside the polling station and in case of non-compliance the returning officer will cancel the ballot paper of such persons.
It was also decided that all returning officers will have powers of full magistrate and they can suspend the electoral process by bringing such elements to ECP's notice in case of irregularity.
Rangers or FC personnel will also be deputed outside the polling stations.