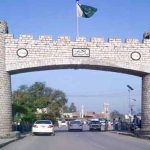 PESHAWAR: The Apex Committee of Khyber Pakhtunkhwa has decided that the elections on general seats for provincial assembly in tribal districts would be held next year.
Briefing the media after the apex committee meeting, provincial information minister Shaukat Yousafzai said that the provincial government was ready for general elections in tribal districts, adding that polls could be held in April or May next year. He said that the Election Commission of Pakistan (ECP) would announce the schedule for elections in tribal districts.
He said that personnel of the Levies and Khasadar force would also become part of the provincial police. He said that 30000 police personnel were being inducted for tribal districts. He said that about 1000 ASI vacancies would be created in the police, while the Levies and Khasadar force personnel would get job protection. He said that the salaries of the Levies and Khasadar force would be increased by 10 to 18 thousands while their uniform would not be changed.
To a question about availability of the funds for 10-year development plan, the minister said that the federal government would take care of the funds as promised. He hoped that the issue would be resolved at NFC. However, he added that the federal government was responsible for providing Rs 1000 billion for ten years for tribal districts. He said that the budget for tribal districts would be part of the provincial budget.
He said that playgrounds would built in 25 tehsils of the tribal districts. He said that the tribesmen had demanded to maintain the jirga system. He said that the jirga system would be maintained in tribal districts through district reconciliation committees.
About weapon industry in Dara Adam Khel, he said that weapons industry would be promoted which would produce weapons for exports. Special industrial zone for Dara Adam Khel arms industry would be set up at Machini, which 50acre land has been selected, he said that the businessmen would be given two options either to continue business in their old places or shift to new industrial zone. He said that one billion rupees would be allocated to help the tribal youth to start their own business.
He said that security situation has improved in tribal districts.