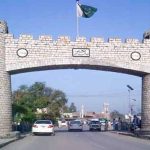 ISLAMABAD: Pakistan Tehreek-e-Insaf (PTI) Chairman Imran Khan has rejected the possibility of an electoral alliance with Pakistan Peoples' Party (PPP) ahead of General Elections 2018.
Talking to journalists outside an anti-terrorism court, Khan said his party would not make alliance with PPP under the leadership of Asif Ali Zardari.
Throwing light on his party politics, the PTI chief said if his prolonged endeavors were solely to come into power, he would have joined hands with Nawaz Sharif and Zardari.
He underscored that his fight was against corruption.
He deplored the cases filed against him at various courts, as he said: "Pakistan Muslim League-Nawaz (PML-N) is making all-out efforts to give an impression that if they were corrupt so were the others by filing cases against opponents."
Earlier today, an anti-terrorism court rejected Khan's plea seeking removal of terrorism charges in four cases registered against him back in 2014, allegedly for inciting his party workers to violence, inflicting losses to state properties including the state television building, the parliament, and injuring Senior Superintendent of Police (SSP) Asmatullah Junejo during Islamabad sit-in back in 2014.