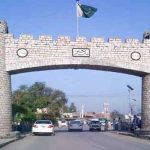 LAHORE: Minister for Water and Power Khawaja Muhammad Asif has said that the electricity load-shedding will be overcome by 2018.
Addressing a function of All Pakistan Wapda Hydro Electric Central Labour Union in Lahore on Tuesday, he said several electricity generation projects of 12,000 megawatts were being completed.
He said that the government has considerably improved the situation of load-shedding by taking measures on various fronts.
The minister said recovery of line losses improved by five percent this year. He said 2,000MW of electricity can be saved if markets are closed by 2000 hours.
The minister said that if employees work with enthusiasm and honesty then there will be no need of privatizing the department. He said that the representatives have to stop power theft in the country and directed to take stern action against the culprits.
He said that the incumbent authorities only want to give relief to the nation. He urged the employee to make Wapda free of corruption.