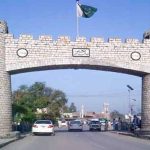 ISLAMABAD: Interior Minister Ahsan Iqbal says enemies of Pakistan are hatching conspiracies against China-Pakistan Economic Corridor project and development of the country.
The Minister, who is on a visit to Norway, in a statement, underlined the need for greater unity, keeping in view supreme national interest and security.
He noted that political instability will be harmful for the country.
Ahsan Iqbal said the result of Lodhran by-elections is an eye opener for everyone.