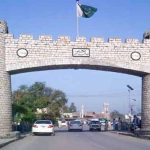 QUETTA: Prime Minister Nawaz Sharif has said that enemies of Pakistan want to divide the nation.
Addressing All Parties Conference (APC) over Balochistan unrest in Quetta today, premier said that are some who wish to make us fight amongst ourselves.
PM Nawaz said that he was happy that all parties had agreed on the China-Pak Economic Corridor (CPEC) project.
"I want to congratulate the Pakistani leadership for owning it."
PM Nawaz also heaped praise on the Pakistani leadership for moving towards mature politics.
"We made decisions about the National Action Plan (NAP) and military courts during which the country's leadership stood together. What bigger example than this of national unity?"
NAP — the 21-point counter-terrorism strategy — was put in place through a strong political consensus after the Dec 16 Peshawar school tragedy.
On this occasion, Nawaz Sharif directed for the immediate arrest of the perpetrators of the Mastung incident.
He said that his government is committed to eradicating the menace of terrorism and extremism from the country.
Earlier, addressing a high level meeting here, the prime minister said Government was determined to eradicate terrorism and extremism from the country.
He directed for immediate arrest of the perpetrators of the incident and bring them to justice.
He said Pakistan's enemies are not happy with the country's progress and development and want to weaken it through such incidents.
He said that operation Zarb-e-Azb going on successfully in North Waziristan would continue till the elimination of last terrorist.
Earlier, Chief Secretary Balochistan briefed the meeting on law and order situation in the province in general and Mastung incident in particular.
On this occasion, the meeting offered fateha for the departed souls of Mastung victims.
The meeting was attended by Governor Balochistan, Muhammad Khan Achakzai, Chief Minister, Abdul Malik Baloch, Federal Minister for Interior, Chaudhry Nisar Ali Khan, Minister for SAFRON, Abdul Qadir Baloch, Minister of State for Petroleum, Jam Kamal, Balochistan Minister for Mines, Sanaullah Zehri, Provincial Ministers, Commander Southern Command and IG Balochistan.