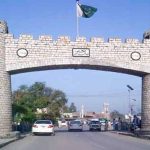 ISLAMABAD: Foreign Office (FO) spokesman Dr. Muhammad Faisal said that engagement with the United States (US) has increased ever since the formation of the sitting government.
During weekly news briefing, the spokesman while commenting on the recently held talks with US special representative Zalmay Khalilzad said that Pakistan conveyed to the US side that it will take all possible steps in good faith to facilitate the political settlement in Afghanistan.
However, he said that it remains a shared responsibility and the role of the US, Afghan government and other regional players is important.
He added that Pakistan has emphatically stated that it is against arms race in the region.
Dr Muhammad Faisal was commenting on recent India-Russia air defense system deal during weekly news briefing in Islamabad on Thursday.
The Spokesperson said the countries which are providing weapons to India should make sure that their assistance does not disturb balance of power in the region.
He, however also made it clear that Pakistani nation and the armed forces are fully ready to respond to any aggression.
Responding to a question, Dr Muhammad Faisal said that Pakistan has not shied away from talks with India and is open to discuss all issues including Jammu and Kashmir, Sir Creek, Siachen and terrorism.
To a question, the spokesperson said both Pakistan and China are open to third party investment in some CPEC projects including the special economic zones.
To another question, Dr Muhammad Faisal said there is no ban on the INGOs in Pakistan.
The spokesperson said there are no restrictions on media in Pakistan and the media outlets are operating freely.