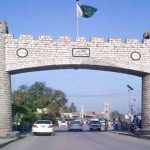 PESHAWAR: An engineering student was shot dead for resisting a robbery bid in Tajabad neighbourhood of Peshawar, the provincial capital of Khyber Pakhtunkhwa here on Sunday night.
According to police, the deceased was a student of the mechanical engineering department at a private university.
The body was shifted to a hospital for medico-legal formalities.
Suspected robbers managed to flee the spot after firing shots at the young man, a police official said, adding a first information report (FIR) of the incident has been registered.
He said the police have launched search operation to track down and arrest the culprits.
Last month, a watchman of a shopping mall at Tariq Road area of Karachi was shot dead in a bid to thwart robbery attempt.
Police had said 6-7 Suspects entered the shopping mall for robbery by breaking roof of a bathroom. They went on first floor of the mall by tying two security guards with rope and opened fire after resistance from two other security guards of the mall which left one of them dead, they added.
Police said the suspects fled the scene after injuring the other watchman.