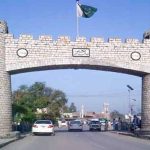 PESHAWAR: The European Union's Ambassador to Pakistan, Dr. Riina Kionka Monday called on interim Chief Minister of Khyber Pakhtunkhwa, Muhammad Azam Khan. They discussed EU's development projects in the province and maters of mutual interests.
The European Union's Ambassador expressed her condolences to the interim chief minister on the Police Lines bombing.
Azam Khan said that the European Union is cooperating in various sectors in Khyber Pakhtunkhwa, adding that the provincial government and the people of the province appreciate the cooperation of the European Union in social sectors.
He said that the provincial government needs the cooperation of the European Union in the merged tribal districts. "The provincial government is making every effort to develop the merged districts at its level," said the chief minister. The people of the tribal districts have been facing numerous problems for the past forty years due to the Afghan war, he said. By focusing on technical education, health, rural development, and economic sectors in the attached districts, the problems of the people of merged districts can be reduced, he said.
Dr. Riina Kionka assured that the European Union will give special attention to Khyber Pakhtunkhwa and Balochistan in its upcoming support programmes.