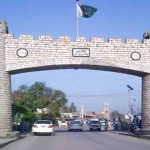 RAWALPINDI: Chief of Army Staff (COAS) General Qamar Javed Bajwa has said every Afghan was dear to him as every Pakistani and it hurt him if an Afghan became victim of terrorism.
"Every Afghan is dear to me as every Pakistani, I am as hurt for every Afghan who is a victim of terrorism as much as I am for every Pakistani," he said while expressing his views in a meeting with Afghan Defence Attache in United Kingdom.
Inter Services Public Relations (ISPR) shared details of this meeting with a thirteen member visiting Afghan media delegation in Pakistan. The delegation includes journalists from renowned Afghan media.
Giving detailed account of the journalists' visit, Director General ISPR Maj Gen Asif Ghafoor said the delegation visited Ministry of Foreign Affairs, Ministry of States and Frontier Regions, Ministry of Commerce, Higher Education Commission, headquarters Frontier Corps Khyber Pakhtunkhwa, National Security Agency and ISPR. Representatives of Pakistani media were also present.
The aim of the visit was to let Afghan media know efforts by Pakistan on war against terrorism which is common threat to both brotherly countries, he said.
Asif Ghafoor gave them detailed briefing about Pak- Afghan border and efforts by Pakistan made thus far. The delegation was also briefed by heads of other ministries on their visit.
The visit of Afghan journalists is expected to enable the visiting media delegation in better understanding of Pakistan's perspective and efforts for bringing peace and stability in the region for sharing in Afghan media.
It was concluded that menace of terrorism has affected both the countries and necessitates greater cooperation based on mutual trust rather than blame game.