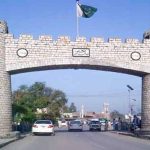 PESHAWAR: Former corps commander Peshawar Lt Gen Hidayatur Rehman Wednesday recorded his statement before the judicial commission, which is investigating the terrorists attack on Army Public School Peshawar.
On the demand of the victim families, the supreme court had constituted a judicial commission, headed by Justice Ibrahim of PHC, for investigation into attack on the APS. Former corps commander Hidayatur Rehman appeared before the commission and recorded his statement.
According to sources, at least 125 people have so far recorded their statements before the commission. The sources said that nine more military officials would also record their statements next week.