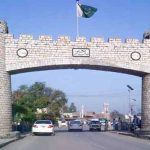 ISLAMABAD: Former Prime Minister has secured interim pre-arrest bail in terrorism case on Thursday.
An Anti Terrorism Court in Islamabad has accepted Imran Khan plea and granted him bail in terrorism case till September 01 and directed authorities not to arrest him until September 1.
Imran Khan on Thursday appeared before an anti-terrorism court (ATC) in Islamabad and filed a petition for pre-arrest bail in a case of hurling threats at police officers and a female judge during a public rally in Islamabad.
The Pakistan Tehreek-e-Insaf (PTI) chairman was nominated in a terrorism case by the incumbent government for hurling threats at a lower court's female judge, Islamabad police chief and his deputies during a jalsa.
It is pertinent to note that Interior Minister Rana Sanaullah has made it clear that Imran will be arrested if the ATC rejects his bail plea.
Security has been tightened around the judicial complex. Frontier Corps and Islamabad police personnel can be seen deployed with batons and wearing anti-rioting gears.
Earlier on Wednesday, the PTI chief had decided to appear before an anti-terrorism (ATC) court for extension in his bail plea after he was charged under ATA for speaking against a judge and Islamabad police officials.
Last week, a terrorism case was registered against Imran Khan at the Margalla police station under Section 7 of the Anti-Terrorism Act for allegedly using derogatory language and threatening Additional Session Judge Zeba Chaudhry during public rally in Islamabad on August 20.
Previously, the Islamabad High Court (IHC) had granted pre-arrest bail to former prime minister Imran Khan till August 25 in a terrorism case.