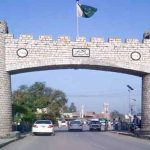 ISLAMABAD: The expansion and renovation of Bacha Khan International Airport Peshawar has been completed.
The federal government has spent three billion rupees on expansion and renovation of the airport.
Four lounges for passengers have been constructed which can accommodate one thousand five hundred people.
Besides installation of five electric lifts and five escalators, a new parking has been constructed in the airport to facilitate passengers.