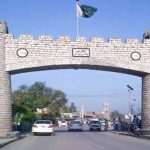 PESHAWAR: Jamiat Ulema-e-Islam-Fazal (JUI-F) Chief Maulana Fazalur-Rehman has said that extension in period of military courts, which was set up for two years after December 2014 attacks on schoolchildren in Peshawar, would be considered as failure of the government.
Addressing a news conference in Peshawar, he said that draft of a new law was being under discussion to give permanent status to military courts and integrate the Protection of Pakistan Act and Anti-Terrorism Act. However, it will be consider as failure of the government as it was originally set up for two years, added he.
He welcomed return of PPP Co-Chairman Asif Ali Zardari to the country from abroad, and hoped Asif Ali Zardari will play an active role in the national politics.
He said that China-Pakistan Economic Corridor was being made controversial for personnel benefits. Talking to the merger of FATA into KP, JUI-F Chief said that he sticks with his approach that referendum should be conducted to whether tribal belt want to merge with KP.
Referring to PTI's politics on Panama Papers issue, Maulana Fazl-ur-Rehman said the party is confused and oscillates between the parliament and the court for probe into the matter.