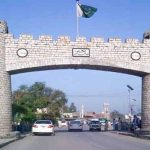 KARACHI: Two eyewitnesses Wednesday identified three policemen allegedly involved in Naqeebullah Mehsud extra-judicial killing.
Assistant sub-inspector (ASI) Allahyar, head constable Muhammad Iqbal and constable Arshad Ali were presented before a judicial magistrate in Malir for an identification parade.
Both witnesses were also arrested by the former SSP Rao Anwar along with Naqeebullah and two of his friends. The police later on released both of them on January 6, while Naqeebullah and three others were killed in a fake encounter on January 13.
Head constable Muhammad Iqbal claimed that he had performed "general duty" and "stayed at the checkpoint", but the eyewitnesses told the court that he had been standing right next to the police van when they were arrested.
They said that Arshad Ali was in the police mobile that took them from Sher Agha Hotel to the Sachal police checkpoint.
The witnesses told the court that Allahyar was in plainclothes when arrived at the hotel, from where they were arrested.
The officers were shifted to the Sachal police station after the identification parade.
Meanwhile, the Sindh police failed to arrest former SSP Malir Rao Anwar.