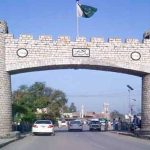 KARACHI: Former federal minister Faisal Saleh Hayat announced to join Pakistan People's Party (PPP) on Monday.
Faisal Saleh Hayat made the announcement after a meeting with Pakistan People's Party Co-chairperson Asif Ali Zardari at Bilawal House in Karachi.
Khalid Ahmed Khan Kharral also called on PPP Co-chairperson Asif Ali Zardari and announced to joined PPP. National Assembly Former deputy speaker Haji Nawaz Khokhar and Malik Mushtaq Awan were also present on the occasion.