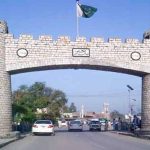 ISLAMABAD: The Islamabad High Court (IHC) has on Monday issued contempt of court notices to the interior secretary, chief commissioner, deputy commissioner and Islamabad inspector general while conducting a hearing over non-implementation of its orders to end the Faizabad Interchange sit-in.
The IHC Judge Justice Shaukat Aziz Siddiqui after hearing arguments of the Interior Minister Ahsan Iqbal gave the interior ministery a 48-hour deadline to end the Faizabad sit-in.
Ahsan Iqbal asked the court to give him 48 hours to disperse the protesters via peaceful means and his request was upheld; however, the court told the minister to do whatever is required and adjourned the hearing till November 23.
The IHC also turned down the federation's request to conduct the hearing inside the judge's chamber and remarked that those times have gone when proceedings and reports were kept secret.
The court said everything would be done by keeping the nation in confidence.
Hearing the sit-in case, Justice Shaukat Aziz Siddiqui commented that the Faizabad sit-in is a result of administration's incompetence and connivance. The management would be charged with contempt of court case, the judge added.
The deputy attorney general told that the matter was very sensitive and cannot be disclosed in public, upon which Justice Shaukat Aziz Siddiqui remarked that the court would address the nation to let it know that the judiciary was not being allowed to work freely.
Talking to media after the hearing, Ahsan Iqbal said that the government wanted to avoid taking action for fear of bloodshed and appealed to the protesters once more to end their sit-in peacefully.
The minister claimed that there are conspirators who want a "Model Town or Lal Masjid"-like episode once again, referring to government action against political workers in Lahore in 2014 and seminary students in Islamabad in 2007, respectively.
He added that the Khatam-e-Nabbuwat laws were stronger than before.
"The impression that we compromised on Khatam-e-Nabbuwat is not correct. I am hopeful that we will resolve the issue in 24-48 hours," he said further.