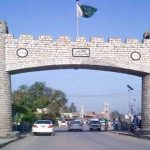 ISLAMABAD: The Supreme Court (SC) of Pakistan on Thursday while taking up suo motu notice of the Faizabad Interchange sit-in by religious groups has summoned officers of intelligence agencies on the next hearing.
During the proceedings conducted by two member-bench of the SC, the federal ministries of defence and interior and the government of Punjab presented their reports before the apex court.
Justice Qazi Faez Isa expressed his dismay at the unrelenting situation and noted that the residents of Islamabad and Rawalpindi were facing serious problems as a result of the sit-in.
"There is no repression in religion. Our conflicts have made a way for enemies to enter in the country and kill people," he added.
Justice Qazi Faiz Esa said that people are suffering for several days because of the sit-in but the government is not ready to talk over the closed routes.
Justice Musheer Alam remarked that Punjab government was aware of the entire situation as said in reports however; they did not take any measures against the sit-in.
Meanwhile, Attorney General Ashtar Ausaf told the coutr they the government did not want bloodshed in the country adding that iniatives were being taken to address the issue.
The Supreme Court had taken suo motu notice of the protests on Tuesday, and had sought replies from the relevant government quarters.
The apex court had also issued notices to Inspector General Islamabad Police and Attorney General.