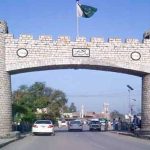 ISLAMABAD: The sit-in staged by Tehreek-i-Labaik Ya Rasool Allah (TLY), Tehreek-i-Khatm-i-Nabuwwat and the Sunni Tehreek Pakistan (ST) at Faizabad Interchange entered 18th day on Thursday.
The protest has resulted in severe issues for residents of the capital and Rawalpindi who face traffic jams and mobility issues on a daily basis with at least two casualties due to ambulances being unable to cross the protesters.
A day earlier, at least four security personnel were injured when the protesters resorted to pelting stones at security forces deployed in the area. Subsequently, four FC and police personnel, including SP Saddar Amir Niazi, were injured.
Meanwhile, responses from quarters concerned in connection with the sit-in will be heard in the Supreme Court later in the day which took notice of the sit-in on Tuesday and sought replies from the relevant government quarters.
The apex court has sought a detailed report on what measures were taken by the government to safeguard the rights of the public and adjourned the hearing until Thursday.
Two rounds of talks have been held on Saturday and Monday between the government and the protesters but yielded no results as as protest leaders continued to demand the resignation of Federal Minister for Law and Justice Zahid Hamid.
The religious parties have been protesting against the change in the finality of Prophethood oath in the law when the government passed the Elections Act 2017 last month. The change, dubbed a clerical error by the government, was immediately fixed as an amendment was passed later.