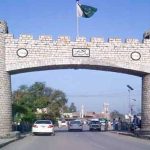 ISLAMABAD: Joint Investigation Team (JIT), formed to probe money laundering through fake accounts, has submitted its second report in Supreme Court (SC) today (Monday).
During the hearing, JIT chairman told the court that Sindh government is not cooperating with them to complete the investigation.
Meanwhile, Sindh Advocate General said that it's difficult to provide 10-year-old data to JIT, adding that the record of the contracts is not properly compiled due to which the concerned authorities are facing problem.
Earlier, Federal Investigation Agency (FIA) had submitted a report in SC, revealing that 25 politicians own assets in Dubai. The agency had claimed that 895 Pakistanis were served notices.
FIA had also traced assets of two absconders in Dubai.
SC was also informed that Pakistani nationals own up to $150 billion worth of assets and money in bank accounts in United Arab Emirates (UAE).
Attorney General told that 11 agents, involved in illegal transfer of money, were taken into the custody during raids in parts of country.