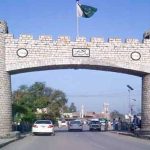 ISLAMABAD: Farooq Bandiyal, who recently joined Pakistan Tehreek-e-Insaf (PTI) has been expelled from the party, confirmed PTI's official Twitter account.
In its tweet, the PTI has said that Imran Khan took strict of reports that a convicted criminal has recently joined the party adding that there was no place for convicted criminals in the party.
The tweet added that a committee has also been formed to probe the matter which would put forward facts before party chairman within three days.
Earlier, Farooq Bandiyal joined Pakistan Tehreek-e-Insa which caused severe criticism on social media.
The criticism also suggested that Bandiyal had been involved in a robbery and rape at the residence of renowned actress Shabnam.
Bandiyal was also sentenced to death for his involvement in the robbery and rape case, during the reign of Zia-ul-Haq.