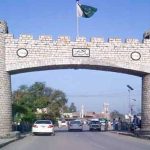 KARACHI: Mutahidda Qaumi Movement-Pakistan (MQM-P) leader Farooq Sattar said that he had conveyed his message to the party's Bahadurabad group of not contesting the upcoming elections.
Talking to media here on Thursday, Sattar said he informed MQM-P leaders of Bahadurabad group to take a decision feasible to them.
He added that the party would reach a final judgment regarding his wish to refrain from contesting elections this time.
He insisted that there was only one MQM with a symbol of Kite adding that the cooperation of Bahadurabad leaders was vital.