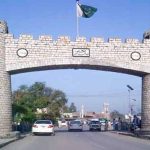 KARACHI: Pakistan Peoples Party (PPP) leader Faryal Talpur on Thursday appeared before a banking court here in a case pertaining to Rs35 billion money-laundering scam.
The judge allowed her to leave the court after she marked her attendance.
The court, meanwhile, adjourned the hearing of the case owing to absence of the investigation officer and directed him to ensure his presence on next hearing.
Federal Investigation Agency (FIA) officials requested the judge to put off the hearing due to the IO's absence.
The hearing of the case was adjourned till September 4. Whereas, the court will take up two accused's bail pleas on Aug 18.
Earlier, the FIA State Bank Circle had submitted a charge-sheet of the case against Hussain Lawai and other accused in the court.
PPP co-chairman Asif Ali Zardari and his sister were among over a dozen suspects declared absconders in the money-laundering scam.
Subsequently, Ms Talpur appeared before the trial court and obtained bail.
According to the FIR registered by FIA, transactions of billions of rupees were made into suspicious accounts, including the one owned by the PPP leaders, the Zardari Group, which is accused of receiving Rs 15 million of the laundered money.