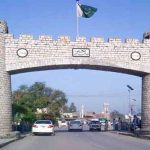 ISLAMABAD: The Minister for States and Frontier Regions Abdul Qadir Baloch has assured the National Assembly that FATA Reforms bill will soon be introduced in the House.
Taking floor of the Lower House, he said that the government is committed to table the bill at all costs, but we need some time as consultations in this regard have entered final phase.
The Minister said that every decision will be taken in the best interest of the country and the people of tribal areas.
Talking floor of the House, PPP Leader Syed Naveed Qamar said that opposition will not participate in the proceedings of the House till FATA Reforms Bill is not placed on agenda of the Lower House.
Later, the opposition staged a walk-out to record their protest. PPP MNA Ramesh Lal pointed out the quorum and the Speaker suspended proceedings of the House till completion of the same.
Upon not finding the House in order, Deputy Speaker Murtaza Javed Abbasi read out the prorogation order.
The House has now been prorogued.