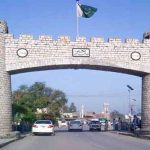 ISLAMABAD: Minister for States and Frontier Regions Abdul Qadir Baloch has on Wednesday said the government was committed to implement recommendations of the FATA Reforms Committee.
He was responding to a Calling Attention Notice moved by Syed Shibli Faraz regarding delay in legislation for merger of Federally Administered Tribal Areas (FATA) with the Khyber Pakhtunkhwa, in the Senate.
The Minister said FATA Reforms Committee gave twenty-five recommendations and directions have been issued for the implementation of twenty-four of them while only one recommendation regarding extension of jurisdiction of superior judiciary was the matter of concern.
He expressed the hope that this issue would also be sorted out soon; and hopefully, the bill would likely be tabled in National Assembly tomorrow (Thursday).
The Session of the Senate has been prorogued.