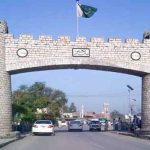 ISLAMABAD: The National Implementation Committee (NIC) on Fata Reforms has confirmed decision of the federal government on FATA's integration into Khyber Pakhtunkhwa.
According to a news report, Prime Minister (PM) Shahid Khaqan Abbasi chaired a significant meeting on FATA reforms last week, wherein participants agreed to let Fata elect 23 members to the KP Assembly in the next general elections.
The report added that on one hand, the government has postponed the announcement of FATA merger with Khyber Pakhtunkhwa for now but on the other, the provincial government and 11 Corps in Peshawar have given final shape to the merger.
Prime Minister was all set to issue a policy statement about the integration of Federally Administered Tribal Areas (FATA) into Khyber Pakhtunkhwa after the meeting; however, the statement was delayed as some of the PML-N leaders were of the opinion to reconcile with Maulana Fazlur Rehman ahead of announcing FATA merger with KP.