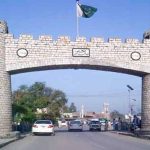 PARIS: The Financial Action Task Force (FATF) on Wednesday placed Pakistan on grey list during FATF Plenary in Paris for not acting against terror financing on its soil.
According to details, United States, Britain, Germany and France voted in favour of placing Pakistan on grey list during FATF meeting while Pakistan's closest allies Turkey, China and Saudi Arabia also backed them.
Caretaker finance minister Shamshad Akhtar along with senior officials of the financial monitoring unit was in Paris to defend Pakistan.
Ahead of the latest meeting, Pakistan took steps in keeping with FATF regulations. On June 20, the Securities and Exchange Commission of Pakistan issued the Anti Money Laundering and Countering Financing of Terrorism Regulations 2018, in compliance with FATF recommendations.
On June 8, Pakistan s National Security Committee (NSC) also reaffirmed its commitment to cooperate with FATF in its fight against terrorist financing and money laundering.
The FATF is an inter-governmental body established in 1989 to combat money laundering, terrorist financing and other related threats to the integrity of the international financial system.