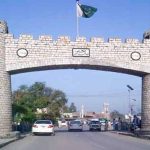 PARIS: A meeting of the Financial Action Task Force (FATF) will begin in Paris today (Sunday) during which Pakistan is likely to be formally put on grey-list.
In this connection, caretaker Finance Minister Shamshad Akhtar on Friday presided over a meeting in Islamabad which was attended by Foreign Minister Abdullah Hussain Haroon and National Security Adviser Lt General (retd) Nasir Khan Janjua.
During the meeting, Finance Minister expressed Pakistan's strong resolve to keep up efforts on counter the possible move of FATF.
She said that the Finance Ministry has improved institutional mechanisms for handling such issues.
Earlier in February, FATF had decided to place Pakistan back on its terrorist financing watch-list.