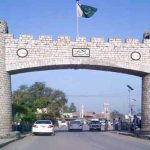 ISLAMABAD: Federal Science and Technology Minister Fawad Chaudhry made good on his promise to create Pakistan's first Islamic calendar on Sunday. He presented the calendar and an online moon sighting portal on Sunday.
Through the online portal (which comprises both a website and mobile application), people will be able to see where the moon is over their territory. By launching this calendar, we are eliminating the uncertainty that always prevailed in Pakistan around Eid, he announced.
According to this lunar calendar, Eid-ul-Fitr will be celebrated on June 5 while Eid-ul-Azha will be celebrated on August 12 this year.
The five-year calendar has already set the dates for Eidul Fitr. According to it, this year's Eid will be on June 5. The next four Eids are May 24, 2020, May 3, 2021, April 22, 2022 and April 10, 2023.
He said that the creation of this calendar will not reduce the role of religious clerics. He also said that knowledge is important and there is nothing wrong with using that knowledge.
He told religious clerics to use the technology available to them for important issues like moon sighting. If you're so bent on using the naked eye to sight the moon, then glasses then become haram (forbidden) too, he said. If using 50-year-old telescopes is halal and 100-year-old glasses is okay but using new technology is haram, then it doesn't make sense, he said. Don't worry, it won't end your role, he consoled religious clerics.
Chaudhry said that application was prepared with input from experts of the Meteorological Department and SUPARCO. The application will be available from Monday on the Google Play Store, he announced.
Using the application, you'll be able to see the moon on the app and where it is, he explained. The moon's location over eight strategic locations will be mapped on the application, said Chaudhry. They have based their moon-sighting on three main principles — 6.8% altitude, luminosity of 0.8% and 38 minute difference between sunset and the moon's visibility.
The proposal has been sent to the Council of Islamic Ideology and will be presented before the federal cabinet on Tuesday. He also announced that August will be declared a science and technology month across Pakistan.
Chaudhry stirred up controversy with his plans for the calendar as it was seen as a challenge to the Ruet-e-Hilal Committee. Before the official announcement of Ramaza, Chaudhry took to Twitter to announce that his ministry would make an Islamic calendar with Eid, Ramazan and Muharram dates pre-decided. In response, Mufti Muneebur Rehman, the head of Pakistan's moon sighting committee, told Chaudhry to mind his own business.
Chaudhry had said on Twitter that the country's future cannot be left to maulvis (religious clerics).
Meanwhile, a meeting of Central Ruet-e-Hilal Committee would be held in Karachi on Tuesday (June 4) (29,Ramazan-ul-Mubarak,1440,Hijri) for sighting the crescent of Shawwal-ul-Mukarram 1440 AH.
Central Ruet-e-Hilal Committee Chairman Mufti Munib-ur-Rehman will chair the meeting of Zonal Ruet-e-Hilal Committee, Sindh at Pakistan Meteorological Department building, Main University Road, Gulistan-e-Jauhar, Karachi.
The other members of committee will attend Zonal and District Ruet-e-Hilal Committees at their respective places.
The meeting of Islamabad Capital Territory (ICT) committee would be held at Ministry of Religious Affairs, near General Post Office (GPO) Islamabad.
The Chairman Ruet-e-Hilal Committee Mufti Munib-ur-Rehman will announce the decision of crescent sighting or otherwise subsequently on the basis of information received.
According to weather department the crescent of Eid-ul-Fitr is most likely to be sighted in the evening of Tuesday June 4, thus Eid would be observed on Wednesday June 5.