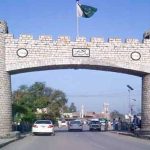 ISLAMBAD: A local court Monday sent PTI leader Fawad Chaudhry to jail on judicial remand in sedition case.
The Islamabad police presented Fawad Chaudhry in the court of judicial magistrate Waqas Ahmad Raja after completion of his two-day physical remand. During hearing of the case, the counsel for Fawad Chaudhry requested the judge for removing the handcuffs for Fawad Chaudrry. The court accepted the request and directed the police to remove the handcuffs of Fawad Chaudhry.
Later on after hearing the arguments of counsel for Fawad Chaudhry and prosecutor, the court rejected the police plea for more physical remand and sent Fawad Chaudhry to jail on judicial remand.