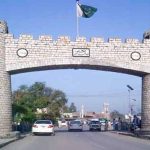 ISLAMABAD: Pakistan Tehreek-e-Insaf spokesperson Fawad Chaudhry has rejected Punjab Law Minister Rana Sanaullah's allegations on police in Asma's rape and murder case saying that the law minister's statements were beyond comprehension.
During a press conference here in Islamabad on Tuesday, he highlighted the improvement in law and order in the province and threw light on the latest developments in the case of three-year-old Asma in Mardan.
He further said that the Khyber Pakhtunkhwa police would hold a press conference regarding the catching of suspects in the murder case.
Fawad Chaudhry said that describing the performance of Khyber Pakhtunkhwa police was not the domain of Rana Sanaullah saying the statistics given by him were incorrect.
Rana Sanaullah, in his earlier press conference, had alleged that Imran Khan was trying to cover up the incompetency of KP police.
Asma went missing from the Gujjar Garhi area of Mardan on January 13 and here dead body was recovered the next day from the nearby sugarcane fields.
The police obtained DNA samples of as many as 145 suspects and sent them to the Punjab Forensic Science Laboratory for testing.
Later it was reported that DNA of one out of the total suspects matched the remains collected from Asma's body and his identity was concealed for fear that he might flee the country.
After the DNA match, the Punjab government established contacts with the government of Khyber Pakhtunkhwa and sent a report on the latest development.
Meanwhile, media reports said that two relatives of the deceased minor girl have been taken into custody.