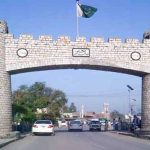 ISLAMABAD: Federal Board of Revenue (FBR) Chairperson Rukhsana Yasmin on Monday said an investigation has been initiated against Pakistanis who own immovable property in the United Kingdom.
FBR Chairperson said that the investigation is being conducted against those individuals who did not avail the government's tax amnesty scheme.
The FBR chairperson further shared, "We have received information of those Pakistanis who illegally own property in the United Kingdom."
"The data was received from UK Tax Authorities," Yasmin said.
Last month, the FBR chairperson said that the response to the amnesty scheme announced at the start of the year was disappointing.
Addressing FBR employees at the Tax House, Yasmin had said that mostly Karachi and Lahore residents availed the scheme and the response from Central and South Punjab was disappointing.
Only 55,000 people availed the scheme, she added.
The tax amnesty scheme, announced by the PML-N government earlier this year, came into effect on April 10, 2018 and ran till June 30, 2018.
The scheme was cited as an opportunity for people to file their local and foreign assets without facing any consequences.
The FBR had warned that holders of undeclared local and foreign assets would face dire consequences if they did not declare assets after expiry of the tax amnesty scheme.
Further, Imran Khan, who is likely to become the next prime minister, told Britain on Friday that he will retrieve wealth looted from Pakistan and stashed in the UK by corrupt Pakistani politicians.
In his first meeting with British officials after his party swept the recently-held polls, the former cricketer-turned-politician stressed he would pursue laundered money.
The Imran-led PTI's largely based its election campaign on denouncing political leaders for looting the public and stashing money in foreign countries.
Along with his close political ally Awami Muslim League president Sheikh Rasheed Ahmad, Imran had petitioned the court after the Panama Papers leak against the Sharif family's links to offshore companies and four Park Lane flats.